About Us
Arrowscape is a Midlands based company that specialises in helping people work with technology, and making technology work for people. We pride ourselves on cutting out the techno-babble, and talking to our customers in plain English!
Formed in 2001 (previously called KD Bancroft), Arrowscape's products and services have been developed to meet the real needs of small-medium sized companies, schools and education organisations, councils or not-for-profit companies, and of individuals.
The Arrowscape team comprises members that have had many years of experience with IT in a variety of different roles and at all levels.
All services provided by Arrowscape are tailored to the specific needs of our customers, and are delivered to ensure complete satisfaction - nothing less is acceptable!
Tony Jay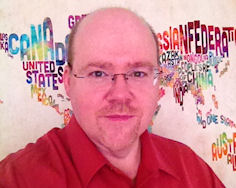 With over 23 years spent in IT, Tony brings a wealth of skills to Arrowscape. His own career has covered the whole spectrum of software development, from programmer, through to analyst, designer, technical author, team leader, web master and project manager.
He has spent much time training people at all levels on a wide variety of applications, and has considerable skills in 'getting the message across' without resorting to confusing technical jargon.
Tony has worked as a consultant with national organisations such as Sema Group and Transco, helping them implement best office practices and procedures, as well as helping develop their Internet and Intranet sites.
He has a great deal of experience in producing documentation, such as training manuals, reference guides, posters, brochures, programmes, procedures and marketing literature.
In recent years, Tony helped establish a new company offering top quality web sites, which he defined and developed, and other Internet services to schools and organisations in the education sector.
Associates
Liz Prowse has over 21 years experience working in a training/IT environment. She specialises in common Microsoft applications (Word, Excel, Access, Outlook, Project, FrontPage and Publisher) but also trains in Lotus SmartSuite and Crystal Reports.
Liz has also delivered bespoke training for the Ford Motor Company both in the UK and Germany. She is able to undertake Training Needs Analyses and evaluate the resulting data, enabling her to make recommendations to clients for training which will allow them to maximise their training investment with focused training.
With Liz's guidance, delegates gain IT skills using appropriately designed exercises which allow them to build on their increasing knowledge in a well paced manner. Liz trains at all levels - from introduction to advanced as well as workshop and one-to-one sessions.
Whitehouse Productions have many years experience in all aspects of video production, and can be called upon to provide services to customer needing videographic or film conversion services for their web site or other multi-media purposes.